Monday, 12 January 2009
While the Holiday Season™ always seems hectic, the 2008-2009 Holiday Season© seemed much more hectic than usual. That's because it was more hectic than usual.
Basically, every day that either Carrie or I "had off" for the span of about two months turned out not to be a day off at all, but a family holiday, trade/craft show, or wedding event.
That's right, this Holiday Season® had an extra holiday: The Duncan/Briggs wedding. But I'm getting ahead of myself.
First was Krismuhs Eev. Because of the snow my family tried to cancel our traditional Crhistmas Eve Brunch, but my brother and I were all like, "Screw that!" and decided that even if the rest of the fambly didn't wanna do it, we (with Carrie & Cassie) would do it anyway. And because of our obstinance everybody except for Pa, Jason, and Alexis had brunch at The Village Inn on Christmas Eve. Take THAT!
There was still snow on the ground on Christmas Day, making it only the 2nd or 3rd White Christmas™ of my entire life. Carrie & I went in the morning to drop Suki off at her folks' house before continuing on to my folks' place for the traditional Li'l Smokies, scrambled eggs, and orange rolls for breakfast. We then opened stockings & prezzies before going over to G'ma's place (just up the slippery road) for more prezzy opening.
In the afternoon it was over to Carrie's folks' house where we mixed things up a li'l bit by opening prezzies before stockings! Gasp! I KNOW! This was because Christine came and joined us for the stocking opening portion of the day! Hooray! It was good to have her there. We got her cute stocking stuff (and a cute stocking).
Then there was a marvelous pork dinner, for which we were joined by the people who live across the street from Carrie's folks, and eventually Carrie & I went back to our house.
It was an interesting Christmas, the first one in who-knows-how-many years that I didn't get any video games! Instead I got a bunches of DVDs and a handfuls of books. Carrie got me the T-Mobile G1, which seriously kicks some major bottom. It came in the mail a week or so early, though, so I had it before Christmas. In addition to that she got us some Jonathan Coulton tickets for his show at the Moore Theater next Friday. Carrie also gotted mostly of DVDs and a few of books (one each from me), but I also gave her a pair of fantastic frog slippers.
New Year's eve was (as always) only 6 days after Krismush, but in the meantime this time there were a couple of wedding events, including girls-only drunk bowling at Chalet Bowl in the Proctor district: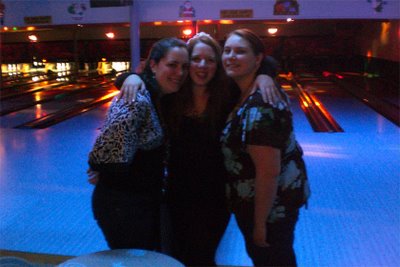 There was also some sorta bridal/wedding shower that weekend. Not to mention the usual Fools Play funtimes!
New Year's Eve was another good time party, but New Year's Day was unusual in that it was the first time in years that Carrie & I didn't go out and see a movie. We just had been doing way too much and still had way too much to do for the upcoming wedding.
The very next day, in fact, was the rehearsal dinner. Carrie got a wedding-party gift: a walking cane with a concealed knife/sword. The head of the cane is a skull. A robot skull. It K's all kinds of A. There was hanging out with Lawrence and some of his New Orleans friends at The Parkway afterwards. Good times.
The next evening there was a girl group getting together to make all the programs for the wedding (which were much more complicated than the programs at my wedding, which were printed-out pieces of shiny gold paper folded in half). I was on errand duty and drove people and things around for a while.
Then that Saturday was the actual wedding. The wedding started around 6:30. I got to the location around 1:30 to help with setup and bringing in box after box of hooch and putting up decorations and locating things and supplies and all that kind of thing. Carrie was one of Lawrence's groomsmen, and while I wasn't a bridesmaid I did have a role in the wedding: I got to escort Christine's mum down the aisle. This meant I got to wear a nice suit. I clean up well: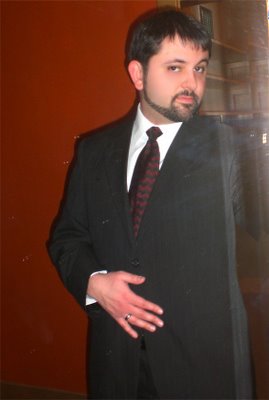 Anyway, it was a very pretty wedding, which you would expect from Christine & Lawrence. Lotsa peacock feathers involved in the decorations and corsages and whatnot. Here's all the peoples standing up there: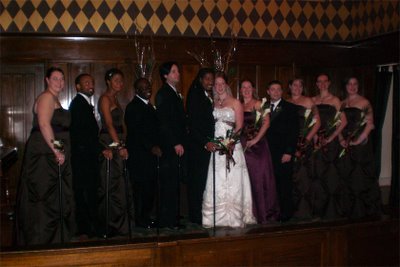 And here's my favorite picture I took of Chrstine. She's purdy:

Anyhoo, I took about 40 photos and uploaded them all (full sized) to this page in case yer interested.
After the wedding we hung around and helped clean up, then I drove Travis's daughter back to her house. When we got off the freeway I heard sirens behind me and pulled over just as a cop car went flying past us. We continued on and went up a road to a T-intersection. I turned left and then when I looked in my rearview mirror I saw that if I had turned right I would have run into about 18 cop cars all arranged higgley-piggley all over the road, completely taking up about a one-block section. Whew! Didn't want to get mixed up in that!
The next day I took Lawrence's family to the airport so they could take their respective flights back home.
Oh! And mixed up in those past two weeks were also daily going and feeding a cat and lizard, and letting Boston Terriers out to pee in thier backyard. Almost forgot about those.
After that we were actually done. No more holidays. No more weddings. No more events. I had intended to get started on the new year that Monday (a week ago today), but honestly Carrie & I were just so exhausted that all we've been able to do for the past week was clean the house from the New Year's Party and sleep. And play Animal Crossing: City Folk. And sleep.
Then today we went out to Safeway and bought food fixin's, and cooked a wonderful, healthy meal of Mahi-Mahi salad with spinach, green beans, pecans, and parmesan cheese with a creamy lemon dressing that Carrie made from scratch. It tasted so very, very good. Carrie & I both agreed that today, Monday the 12th, was when the new year was finally able to start for both of us. So we drank a bottle of bubbly wine to celebrate with our om-nom-nummy dinner.
Now I'm just finishing up this post and then I'm going to start making many, many lists of all the things that I'd like to accomplish. Then I'll start moving around the list items to that I know when to accomplish what pieces of each list. I'm using the fantastic backpackit website to do all of this. I absolutely lorve that website. Too bad it doesn't have a good mobile version; if I wanna use it on my T-Mobile G1, then I have to navigate the browser to the full website (easier than it sounds; I just poke one icon and I"m there, but it does take longer to load than I'd like and isn't really formatted for the small screen).
What kinds of things am I listing? Oh, let's see. I'm in the process of teaching myself to use PHP with MySQL to create custom database-based shopping cart applications. I have a handful of movie reviews and articles that I'd like to write for THIS VERY WEBSITE (gasp). Carrie and I are working on a joint etsy site. I have a major writing project that I'm going to be diving into head-first in February, so I have to gear up for that. I'm transferring THIS VERY WEBSITE's server and looking to switch over to WordPress. And there is one extremely major project that may seriously change a huge chunk of my life, but that for now will remain a secret. Except to those people who it involves, in which case you'll be getting an email from me later this week.
Oh, and also a very fun and awexomely good-for-me project: Starting tonight (in about a half-hour) I'm beginning this program. I'll be posting my progress here and on my twitter account, so that's probably gonna be pretty boring for you, but it's incredibly exciting for me, especially after the six weeks have passed (though for me it's likely gonna be closer to eight weeks).
Whew! That's about it for now I guess, but Happy New Year (finally) everyone!
Categories: Christmas, Cooking, Holiday, Life, Round-up, Updates, Weddings.