Thursday, 16 April 2009
I've been on vacation for the past week! But I'm back now. It was a really busy vacation. Let's see:
• FRIDAY
Carrie went shopping with a birthday girl, and we met up with another birthday girl (and a bunch of other Bead Babes & Boys) at Chalet Bowl. I did very poorly! The Chalet Bowl people were acting strangely, like they didn't really want anybody to actually be in there, just to bowl and get out! I guess they had some big event later on? Randomly ran into @danaismyname there, but she (and her family) were also rushed out of there by the staff.
So instead of hanging out and spending our money there, after bowling we went over to the North End Tavern and spent money there by having beer and playing darts. I did very well!
• SATURDAY
We went to Northwest Trek! With two Mels, a Jen, and a Lila. I took photos with my phone, which I instantly tweeted!
The best part of the whole trip was the last hour when Lila decided she was both an explorer and our Teacher, and that we were her "group." She would tell us what the signs said, and give us specific instructions. My favorite were, "Okay, now everybody has to stand on the other side of this tree. Okay, now hold hands in a circle. Now walk backwards this way…"
She got really into her teacher/explorer character, but started getting tired towards the end of it and got a little too much into character. At one point when Jen called her Lila she shouted, "I'm not Lila!"
Carrie turned to one of the Mels and said in a low, creepy voice, "Lila isn't here anymore."
• FOOLS PLAY
That evening I went down and performed our new Fools Play Easter format: Fools Play Egg Hunt. I ate 19 marshmallow peeps during the annual Peep Show. This year it was a Kung-Fu Peep Show:
A Young Man and his Mother work hard in their small farm in ancient rural China. They work hard but they get to reap all the rewards. One day the Mother sends the Young Man into town to "buy a bucket," but while he is away the farm is attacked by a group of six Bandits lead by the Bandit Leader, who kill the Mother and take the food, burning the farm. When the Young Man comes upon this scene he vows revenge against those vandals.

Meanwhile in a tavern in town, a Drunkard drunkenly decapitates the bartender. Just then the Young Man enters, scaring the Drunkard's Coward friend into hiding under the table. The Young Man asks for help in defeating the Bandits. The Drunkard is so disgusted by the Cowards cowardice that he kicks the Coward out from under the table. The Coward goes flying across the bar and right up to the Young Man, who mistakes the Coward's being thrown across the room with real Kung-Fu prowess and begs the Coward to train him. The Coward is too cowardly to refuse.

And so the Coward, in the span of two hours, "trains" the Young Man to be a Kung-Fu master, even though Coward knows absolutely no Kung-Fu. Emboldened by his training, the Young Man goes off and finds the Bandits and challenges them. They promptly and humiliatingly kick the Young Man's sorry ass, and don't even have the courtesy to kill him.

The Young Man goes sulking back to the bar to confront the Coward, who hides again under his table. After a wacky conversation, some wacky action, and some vomit, the Drunkard "trains" the Young Man by getting him piss-drunk. The Drunkard then promptly dies of psoriasis of the liver. The Young Man is despondent until the Drunkard's ghost shows up to encourage him. The Drunkard's ghost then promptly dies of ghost psoriasis. The ghost of the ghost appears and tells the Young Man he should just get going because this is likely going to go on for some time.

The Young Man rushes back to the Bandits, challenges them, gets pissed drunk and promptly beheads one of them. He then vomits on another one, who dies from being "allergic to vomit." The remaining three Bandits pounce on him simultaneously, but the Young Man manages to leap high up into the air and dispatch the three of them all at once. Now all that are left are the Young Man and the Bandit Leader, who have a classic showdown wherein they face off and then run past each other. A couple of seconds later the Bandit Leader falls down dead. The Young Man walks off, saying something presumably inspirational (my mouth was so full of peeps at this point that I was incomprehensible).
Also during this episode of Fools Play, and very excitingly for me, a new addition to the cast was revealed: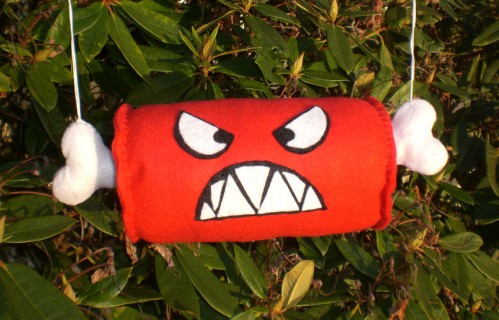 That's right! It's ANGRY BEEF! We summoned him to fight off the Improv Spawn. But is this solution worse than the problem? We'll find out in the weeks ahead!
I'm so very proud of this plush ANGRY BEEF, which I designed sewed all by myself. The bone actually runs all the way through a hole down the middle of the body, and if you pulled you could yank it right out! It might be nigh-impossible to put it back in if you did it, though. I would love to mass-produce and sell these, but this one took for-freakin'-ever to make, so unless I come up with a better system I'm not going to be able to make very many, and they'd have to be really expensive to make them worth it. We'll see.
• SUNDAY
Sunday was Easter, in case you forgot. In the early afternoon we took Suki over to Carrie's folks' house, where we hung out and played cards for a while. Then we headed over to my folks' house for din-dins. After that we drove up to the Skylark Café in West Seattle to see Julia Massey and the Five-Finger Discount (including @rabbiddogg) play a set. It was fun! We really like that venue a lot.
• MONDAY
We cleaned the house hard-core in the morning, and then in the afternoon we drove all the way up to the Semiahmoo Resort just a stone's throw away from Canada (you can see Canada out the windows). I like taking long drives with Carrie 'cause she always packs really good snacks. But the weather was weird during the drive, including a bout of hail and a section of the freeway that had snow all up ons it.
We hung out in the bar up at Semiahmoo once we got there and I had frou-frou girly drinks. One of the reasons we went to Semiahmoo is because they had a "Ginger Snap Martini" that Carrie knew I would love. It basically has Goldschläger, Jägermeister, and Bailey's Irish Cream all mixed together, and there might be some ginger vodka in it, too. Not entirely sure. It was good, though.
We took a dip in the hot tub and then headed back to the bar for din-dins, and I had another frou-frou girly drink that had a sugared rim. I'm such a girl.
• Tuesday
Tuesday we had Crab Benedict for breakfast in bed, then headed back down south, stopping in my old stomping grounds of Old Fairhaven on the way. It's changed quite a bit; it's a lot nicer and has a lot more stuff in it than when I went to Western ten years ago. I liked it. For lunch we ate home-made chicken salad in the car before completing the return trip.
• Wednesday
In my brain this is the only day of my vacation that I didn't actually do anything except sit around and relax. This is of course ridiculous because I went to work in the morning, meaning my vacation ended. However, I got off at 1:00 in the afternoon, so it was almost like having an entire day to relax, so it still counts in my brain.
And as of… NOW I'm back and all done with vacation. I have much of work to get done.
Categories: Concerts/Shows, Fools Play, Holiday, Life, Links, Music, Pictures, Restaurants, Round-up, Vacation, Weather.
Tags: ANGRY BEEF, Bowling, Easter, Fairhaven, Julia Massey, Kung-Fu, North End Tavern, Peep Show, Semiahmoo.