So I'm only just now getting around to posting about what happened leading up to, during, and after Halloween. Why? On account o' the busy-ness, and some unavoidable delays.
My wife caught a powerful sick that lasted the entire week leading up to H'ween, so I was busy taking care of her as well as doing everything around the house that needed to get done. I also had to drive out to me mum's place a couple of times so that I could borrow her sewing machine, which I needed to create the body portion of my H'ween costume. I'm not a very good tailor, so it took a while, but it came out shockingly well. More details in moments.
The theme I decided on for my H'ween punkins this year was "fossils." Probably because my friend Three Ninjas is so into them. So about a week and a half before H'ween I carved the first one: an ammonite fossil!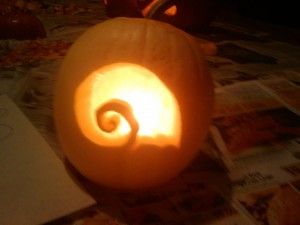 Then the day before H'ween my pal Leiapico had a punkin carving party! It was also a costume party but I didn't have my costume completely finished yet. Anyhoo, I carved another punkin at the party. You should recognize it pretty easily:
Then during the day on H'ween I carved a trilobite fossil: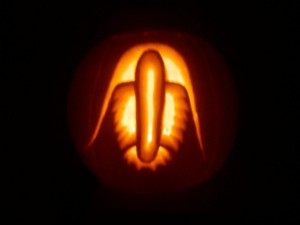 Then I had another punkin left over, so I carved a fossilized dinosaur thigh bone into it just for fun.
And here they all are!
Normally Carrie & I make Reuben sandwiches with potato/green bean/sauerkraut soup on H'ween evening and give out full-sized candy bars to the trick-or-treaters, but this was an unusual (and special) year in that Halloween was actually on a Saturday, so we actually performed our Fools Play Halloween format (Fools Play Trick or Treat) on Halloween night! As per usual, all the Fools dressed up in costume, so here's a run-down of what was what:
Jamie Pederson the Fools Play Apprentice as:
Edgar Degas
Taisha McFall the Jade Fool as:
A Cheerleader from Rick Moranis in Gravedale High
Mike Harris the Blue Fool as:
Porco Rosso
And here's the reveal of my costume:
Chris Harris the Purple Fool as:
A JELLYFISH
Yeah! I designed it so that I could put the jellyfish "hood" down. I also made slits in the long tentacle sleeves about even with my hands. I then sewed strips of velcro on the slits so that I could cleanly close them when I was in full costume, but I could open them and stick my hands out when I was performing or interacting with grab-able things. I also put my purple shirt on over my jellyfish bottom for the duration of the show.
The Fools were not, of course, the only people dressed in costume. A huge percentage of the audience came in costume as well, which is what we want for our Halloween show. Some of my faves were Tia as a Starfleet Medical officer (with a costume she made herself), and her boyfriend James as Master Onion from Parappa the Rapper. There was also a very good Velma from Scooby-Doo.
Anyway, at the end of the show our apprentice Jamie, whose soul we'd manage to free from the influence of dark magic (long story; don't want to bore you with the details) and who had overcome the brainwashing of Sir Ian McKellen (who wanted us dead for tearing a page out of his copy of the Forbidden Book of Improv Lore (but, again, I don't want to bore you with the details)), managed to turn his soul completely around and became an official frikkin' fool: Jamie Pederson the Ginger Fool!
Originally we were going to give him the Orange shirt seeing as how Nathan Geyer the Orange Fool hadn't performed in about six years. But in a shocking turn of events, Nathan Geyer was actually in the audience that night, and jumped up in protest when we were about to give the Orange shirt to Jamie. He said he was back in town now, and so he was going to reclaim his Orange shirt and start performing again. So we had to scramble to find another shirt for Jamie and the best we could find was a shirt the color of crystallized ginger, so the Ginger Fool he became. So in one night we got a new Fool and saw the return of a long-lost Fool!
So, yeah, that was fun.
But because I was at Fools Play on Halloween, Carrie & I didn't do our Reuben Sandwich Feast as per usual. We were gonna do it the day before, but she was still having the sick in her (which is why went to Leiapico's punkin carving par-tay), so we delayed it until the Friday after. I made 12 Reuben Sandwiches. They were good.
Anyway, one of the reasons why this post is so late is that my digital camera broke back in September, so I didn't have it with me at Fools Play to take pictures of everyone's costumes! I had to wait for the person who took these pictures to get them off the camera and email them and then have them be sent to me, etc. Took a while. But there they are, baby.
OFFICER KANE

But there they are, baby. There they are.

CAMERA TRUCKS UPWARDS as OFFICER KANE puts his arm around CINDY. They turn and walk away down the alley in SLOW MOTION and are soon lost in the fog as the END CREDITS MUSIC begins playing.

FADE OUT.

THE END.
Hmm… I went somewhere weird at the end of this post. Oh, well.

Categories: Art & Artists, Arts & Crafts, Cartoons, Cooking, Fools Play, Holiday, Life, Links, Pictures.
Tags: Degas, Fossils, Gravedale High, Halloween, Jellyfish, Parappa the Rapper, Porco Rosso, Punkins, Reuben Sandwiches, Rick Moranis, Star Trek.

« Previous Post: