So on Thursday I went with my museum buddy, Marvel's X-Men's female clone of Wolverine (X-23), to the Tacoma Art Museum to see their "Edo to Tacoma" exhibit of Japanese woodblock prints. I thoroughly enjoyed that experience. It's one thing to see reproductions of prints, but its another to see the original paper from the 1600s with the original ink on it.
In case you didn't know: woodblock prints involve carving a block of wood for EACH color. So a ten-color print (including black but excluding white) takes ten separate woodblocks to print. And these prints are generally no larger than an 8.5″ × 11″ piece of paper. So the carving work is incredibly intricate. It's also a fascinating process in that practically off of the prints are commissioned by a publisher who hires the artist to draw something. Once the publisher approves the drawing (and the colors), it's handed over to the carvers who do the actual carving work. Then the prints are mass-produced and sold, sometimes bound in a volume, especially the "series" works (like the 100 Famous Views of Edo and Thirty-six Views of Mount Fuji series (which contains "The Great Wave off Kanagawa") of prints). So it was really a commerce-driven industry, not artist-driven.
I got this swell postcard!
After leaving the museum, we swung by the Fulcrum Gallery in Hilltop to see their latest exhibition, "Seasonal Affective" by Sean Alexander. Mr. Alexander (who has a very sparse website) suffers from seasonal affective disorder (which is pretty common here in the Northwest), and allows it to inform his art. His artwork is intensively, minutely detailed with excruciating and teeny-tiny linework. Like this postcard I picked up at the gallery: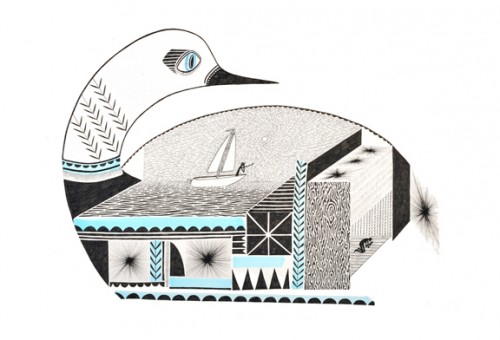 So if for some reason you find yourself in the area during Fulcrum's business hours, you should definitely pop in and look at them up close. And then after that I came back home.

Categories: Art & Artists, Japan, Life, Links, Pictures, Tacoma.
Tags: Fulcrum Gallery, Sean Alexander, Tacoma Art Museum, Woodblock Prints.

« Previous Post: