Wednesday, 7 March 2012
Link of the Month:

TNG Season 8
My link of the month is a Twitter account? You best believe! TNG Season 8 posts hypothetical plot synopses from a never-produced season 8 of Star Trek: The Next Generation in 144 characters or less. And they're absolutely hilarious. They make me bust a danged gut! The formula is (almost) always the same: a first sentence describes the "A" plot, and a second sentence describes the "B" plot of the episode.
Here are a couple of my favorite examples:
Dr Pulaski is back to evaluate Dr Crusher's fitness to practice medicine. Meanwhile, Beverly swoons for a ghost trapped in a loaf of bread.

— TNG Season 8 (@TNG_S8) November 27, 2011
Picard finds Jane Austen in a victorian cryo-pod, doubts her identity but still dates her. Beverly spies on them from behind a plant.

— TNG Season 8 (@TNG_S8) February 7, 2012
But there are more than 90 more where that came from! And best of all you don't have to have a Twitter account to read them!
Album of the Month: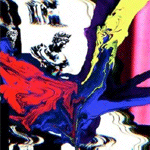 Busdriver: Beaus$Eros

Pronounced "Bows and Arrows," west-coast meistro Busdriver's latest album is all over the place, pulling in insanely varied influences from a huge cross-section of music, yet somehow maintains a cohesive, haunting overall feel. Truly genre defying, Beaus$Eros is not easily classified as a "hip-hop" album. Known for his intense, rapid-fire delivery, Busdriver's approach here is, well, I don't wanna say "more relaxed" because the intensity is still there, but there is an ease and comfortability in his cartoon-villain voice, and a lot of straight-up singing. Beaus$Eros has some experimental stuff going on, but it is also highly polished and each song seems planned with utmost care and the voice and the music (brilliantly produced by Loden) meld like they were written for each other, which is often a problem with other experimental hip-hop. Busdriver is part of the same group that also produced Nocando, Open Mike Eagle, and Dumbfoundead. I don't know what's in the water down there, but I hope they all keep drinking. This is easily one of the best albums of the last five years.
TV Show of the Month: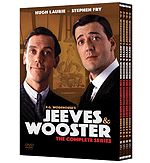 Jeeves & Wooster: The Complete Series

If you've ever been not quite sure what someone means by a "Comedy of Manners," you need to watch this series. Starring Stephen Fry & Hugh Laurie as the titular characters, this is a series about a proper (and brilliant) English valet who quietly and subtly uses his manners and influence to protect his wealthy (and dimwitted) employer. It may sound dry, but the episodes tend to spin quickly into wacky, but straight-played farce and ridiculousness. A rich and light and fun series all the way through. I've heard bad things about the video transfer, though (I haven't watched this particular collection myself).
Categories: Of the Month.
Tags: Busdriver, Hugh Laurie, Star Trek, Stephen Fry.