Link of the Month: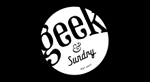 Geek and Sundry
From the mind of Felicia Day and her geeky friends is a new YouTube channel that produces hilarious and fun original content on a regular basis. My favorites are Felicia's "Flog" (short for Felicia's "Vlog," which is short for Video "Blog," which is short for "Web Log"), in which the adorable hostess goes out of her comfort zone and tries out some RL skills like blacksmithing and chainsaw ice carving; and Wil Wheaton's "Tabletop," which is a half-hour show that is like celebrity poker if the celebrities were all geek icons and the poker were a different type of board/card game every episode. Geek & Sundry is also now the online home of Felicia's incredibly popular "The Guild." It's fun stuff.
Album of the Month: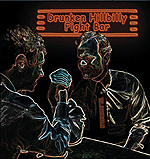 The Jesus Rehab: Drunken Hillbilly Fight Bar
The first release from The Jesus Rehab's new, focused, stripped-down (just guitar & drums) configuration, this EP is a rockin', stompin' good time. "Carry You" and "Holiday" are my favorites, full of damnably catchy hooks and fist-pumping energy. It's amazing just how much sound Jared Cortese can get out of his guitar, and Dom Cortese (also of Julia Massey & the Five Finger Discount) is a virtuoso drummer. Be sure to also snag the "No More Tears For Me" single!
Movie of the Month:

The Muppets

My favorite movie of 2011 (though to be fair I still have not seen Hugo or M.I.:Ghost Protocol). You can read my full review here.

Categories: Life.


« Previous Post: