Thursday, 9 August 2012
Link of the Month:


Creator's Edge Press
Creator's Edge Press is a truly independent comic book company. They help independent comic book book creators print and publish their comics and get them in front of as many people as possible (including digitally). They're a young company but they've already got an impressive collection of back-issues. Check 'em out (I especially recommend "Jeff"). Support some indie artists.
Album of the Month:

Mega Ran (5th Anniversary Special Edition) by Random
Random AKA Mega Ran has a fascinating story, which I cover in-depth here. This is a re-mastered re-issue of his original Mega Man songs. They're a fun and funny group that include songs about falling for Dr. Cossack's daughter Kalinka, fighting Metal Man, and more, all with the actual music from the Mega Man games backing him up.
TV Show of the Month: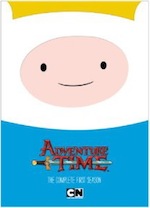 Adventure Time: Complete First Season

Easily one of the best cartoons of the past ten years, Adventure Time finally gets the respect it deserves from Cartoon Network and gets a full season 1 release on DVD (though not on Blu-Ray, oddly) instead of the weird collections of random episodes that they'd been putting out until now. If you're not a fan of the show, well, you should be. It is funny and weird and childish and absurd and subversive. I love it to death. So can you!
Categories: Of the Month.
Tags: Adventure Time, Creator's Edge Press, Mega Ran.