Sunday, 2 September 2012
Link of the Month:

Redbubble
Redbubble is one of those sites where artists can sell their artwork on T-shirts, posters, iPhone cases, and the like. It is undeniable that Redbubble sells some cool, geeky stuff. It is also undeniable that a huge chunk of it is of dubious legality. But it also has a lot of original artwork from actual artists as well. A lot of the designs that were on sites like TeeFury and The Yetee end up on Redbubble after they've run their course.
Album of the Month: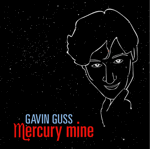 Mercury Mine by Gavin Guss
I have an interesting history with Mr. Gavin Guss. You see, back in the early-mid 1990s my brother and I stumbled upon a Public Access TV show called Gavin's Howse starring/produced/directed by/written by Gavin Guss, a local Seattle musician. Gavin's Howse was one of the main inspirations that led to us creating Under the Mailbox Theater. Well, cut to almost 20 years later when I go to a music show in Seattle, and the opening act is Gavin Guss. It is good music. I enjoy. I buy the CD directly from Gavin.
Anyway, "Mercury Mine" is a great record, a mixture of 1960s Bubblegum (think The Monkees) and 1970s Power-Pop (think Big Star) filtered through that early 1990s Seattle music scene that produced acts like The Posies and The Presidents of the United States of America. The songs are catchy, short, hook-heavy, and emphasize pretty harmonies and bright melodies (i.e., not the dark, heavy, crunchy, angsty/angry aesthetic that produced Grunge). The lyrics are not afraid to be very funny, and are intelligent and often very clever ("Oasis" is one of the best songs I've heard about the well of musical inspiration running dry). Some of the songs sound just like they could have been performed by the likes of The Monkees or even The Banana Splits (especially the catchy-to-the-point-of-being-unholy "Lifeboat," an early version of which was actually featured on Gavin's Howse). It's excellent stuff, and I'm glad I re-discovered Gavin's music.
Game of the Month:

Osmos
This game has a very simple premise: You're a circle. You can absorb circles that are smaller than you, and when you do you increase your mass (circumference) by the amount that you absorb. Circles larger than you can absorb you similarly. In order to move, you have to eject tiny amounts of your mass in the direction opposite to the one you want to travel (making you shrink a tiny amount). It's fun and intuitive. The real gems of this game, though are the ambience. There is some great ambient music and the graphics have some nice particle-effect touches. It's very moody and cool.
Categories: Of the Month.
Tags: Gavin Guss, Osmos, Redbubble.