Sunday, 1 May 2016
Album of the Month:


Lost Time by Tacocat
It's no real secret that one of my favorite genres of music is mid-late 90s female-led power pop/rock. One of my favorite all-time musicians and songwriters is Kay Hanley (of Letters to Cleo fame). Veruca Salt's "Eight Arms to Hold You" is one of my favorite albums. So it should be really no surprise that I'm totally digging on local Seattle band Tacocat right now, seeing as how they're basically the heir to this sound infused with a healthy dose of 90s Olympia Riot Grrrl. Their songs are catchy, catchy, catchy, with lots of interesting influences from the 60s, punk of the 70s, and of course the grunge of the 90s. Also, they're big nerds. "Lost Time" is a reference to UFO abductions, and the first song on the album is called "Dana Katherine Skully" after the main character of The X-Files. Also, they wrote the new theme song to the Powerpuff Girls revival that's currently airing on Cartoon Network. Nerds. Here:


Movie of the Month:


Star Wars: The Force Awakens

Spectacular.
Wait, I didn't do that right.
SPECTACULAR!
There, that's better. I mean, come on. It's so, so, so much fun.
Comic Book of the Month: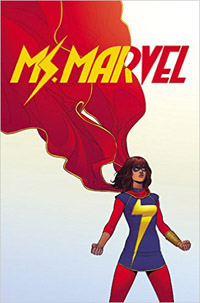 Ms. Marvel

G. Willow Wilson's Ms. Marvel is a great comic book about the fun and angst of being a superhero (not to mention being a teenager, a girl, a muslim-American, and a nerd to boot). What's so great about it is that it never gets bogged down by any one thing. It's zippy and funny and genuine, but also really weird and cartoony and embraces all of its weirdness in a charming matter-of-fact way. The Marvel universe is full of almost-constant bizarre happenings. A Norse god disrupting your school dance isn't really that out of the ordinary (and certainly nothing to get freaked out about). Protagonist Kamala is a refreshing bit of brightness in an all-too-often-gloomy genre. She doesn't know exactly what she's doing; she only knows she wants to help people. Ms. Marvel is the best comic book to come out in the last five years. This omnibus collection doesn't come out until this Autumn, but I'm very much looking forward to it.
Categories: Of the Month.
Tags: G. Willow Wilson, Ms. Marvel, Star Wars, Tacocat.