"Of the Month" Archives: 2012
December 2012:
Link of the Month:

My Wish List
'Tis the season to give me lots of presents! #shameless
Album of the Month:

One Christmas At a Time by Jonathan Coulton & John Roderick

Jonathan Coulton (of Jonathan Coulton fame) and John Roderick (of The Long Winters fame) set out to collaborate on an album of traditional Christmas albums. They quickly found this boring, and were more entertained by the jokes they were coming up with than the traditional songs. So they made those jokes into all-new Christmas songs and recorded them instead. The results is a delightfully daffy while still very mucially polished collection of songs about relatives ruining Christmas and wanting an Atari 2600. There's a very accurate, old-school country song about Christmas in jail (it reminds me a lot of a Three Ninjas song) and an hilarious song about the dangers of celebrating Christmas based on past experiences, or projecting the current Christmas into next year's. Very funny and very catchy stuff. Get it!
Movie of the Month:

Rare Exports: A Christmas Tale

An unconventional Christmas movie, Rare Exports is an extremely straight-faced parody of arctic monster movies (like John Carpenter's The Thing). Some wealthy American is digging up a mountain in Lapland because he's certain that it is actually the world's biggest burial mound. A young boy in the nearby village does some research and comes up with a theory about what (or who) is buried there that turns out to be surprisingly accurate. The results are darkly comedic, with a surprising third-act reveal, and the epilogue is delightful (and explains why the film is called Rare Exports).
November 2012:
Link of the Month:

Broodhollow
The creator of the now-ended SciFi webcomic Starslip (aka Starslip Crisis, aka Starshift Crisis) and current purveyor of Chainsawsuit has just started up a Cthuhlu-style webcomic. It's in its early stages; only a handful of strips have been published so far, so it's easy to go back and read from the beginning. I'm curious as to what is gonna happen.
Game of the Month:

Pocket Planes
From the makers of Tiny Tower come Pocket Planes, another bullshit economic simulator of the kind I can't seem to resist. This one is more complicated and therefore more intellectually stimulating than Tiny Tower, but isn't nearly as goofy or cute. A fair trade-off. My only complaint is an arbitrary Experience Point cap on the number of airports you can have open at any one time. It seems weird; if I have enough money, why do I have to wait to XP up before I can open another airport?
TV Show of the Month:

Eureka: Season Five

The final season of a rather uneven but almost always entertaining show on the SyFy network was easily one of its best. The limited number of episodes forced the show to focus and distill its own essence. It still contains some of the worst bullshit science this side of the original Star Trek, but its goofy fun is infectious. Plus Wil Wheaton and Felicia Day both play prominent roles throughout the season and they're just a hoot.
October 2012:
Link of the Month:


Pumpkinrot's Blog
Pumpkinrot is a person who got too old to (legitimately) go door-to-door on Halloween for candy. So instead he turned the entirety of his considerable creative energy to creating amazing Halloween decorations. This frequently-updated blog (over 800 entries so far in 2012) is an amazing aggregate of all things Halloween-related, including his own creations, things he's found, things he's watching & listening to, etc. It is an unbelievable joy to scroll through the archives.
Movie of the Month: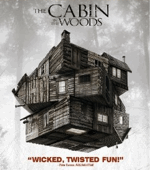 The Cabin in the Woods

Joss Whedon and Drew Goddard's masterful horror movie to end all horror movies. One of the best of the new millenium. Read my Full Review Here.
Book of the Month: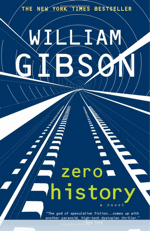 Zero History by William Gibson

William Gibson, the man who brought Cyberpunk to the masses in the early 80s, has finally caught up to himself with the so-called "Bigend Trilogy." They take place no longer in the future where his earlier books took place, but in a present in which many of the futuristic ideas he conceived 30 years ago are now commonplace but no less bizarre. Zero History is the final book of the trilogy, and the best. It has nothing to do with Halloween, though.
September 2012:
Link of the Month:

Redbubble
Redbubble is one of those sites where artists can sell their artwork on T-shirts, posters, iPhone cases, and the like. It is undeniable that Redbubble sells some cool, geeky stuff. It is also undeniable that a huge chunk of it is of dubious legality. But it also has a lot of original artwork from actual artists as well. A lot of the designs that were on sites like TeeFury and The Yetee end up on Redbubble after they've run their course.
Album of the Month: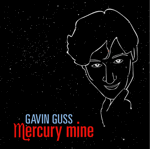 Mercury Mine by Gavin Guss
I have an interesting history with Mr. Gavin Guss. You see, back in the early-mid 1990s my brother and I stumbled upon a Public Access TV show called Gavin's Howse starring/produced/directed by/written by Gavin Guss, a local Seattle musician. Gavin's Howse was one of the main inspirations that led to us creating Under the Mailbox Theater. Well, cut to almost 20 years later when I go to a music show in Seattle, and the opening act is Gavin Guss. It is good music. I enjoy. I buy the CD directly from Gavin.
Anyway, "Mercury Mine" is a great record, a mixture of 1960s Bubblegum (think The Monkees) and 1970s Power-Pop (think Big Star) filtered through that early 1990s Seattle music scene that produced acts like The Posies and The Presidents of the United States of America. The songs are catchy, short, hook-heavy, and emphasize pretty harmonies and bright melodies (i.e., not the dark, heavy, crunchy, angsty/angry aesthetic that produced Grunge). The lyrics are not afraid to be very funny, and are intelligent and often very clever ("Oasis" is one of the best songs I've heard about the well of musical inspiration running dry). Some of the songs sound just like they could have been performed by the likes of The Monkees or even The Banana Splits (especially the catchy-to-the-point-of-being-unholy "Lifeboat," an early version of which was actually featured on Gavin's Howse). It's excellent stuff, and I'm glad I re-discovered Gavin's music.
Game of the Month:

Osmos
This game has a very simple premise: You're a circle. You can absorb circles that are smaller than you, and when you do you increase your mass (circumference) by the amount that you absorb. Circles larger than you can absorb you similarly. In order to move, you have to eject tiny amounts of your mass in the direction opposite to the one you want to travel (making you shrink a tiny amount). It's fun and intuitive. The real gems of this game, though are the ambience. There is some great ambient music and the graphics have some nice particle-effect touches. It's very moody and cool.
August 2012:
Link of the Month:


Creator's Edge Press
Creator's Edge Press is a truly independent comic book company. They help independent comic book book creators print and publish their comics and get them in front of as many people as possible (including digitally). They're a young company but they've already got an impressive collection of back-issues. Check 'em out (I especially recommend "Jeff"). Support some indie artists.
Album of the Month:

Mega Ran (5th Anniversary Special Edition) by Random
Random AKA Mega Ran has a fascinating story, which I cover in-depth here. This is a re-mastered re-issue of his original Mega Man songs. They're a fun and funny group that include songs about falling for Dr. Cossack's daughter Kalinka, fighting Metal Man, and more, all with the actual music from the Mega Man games backing him up.
TV Show of the Month: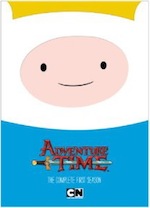 Adventure Time: Complete First Season

Easily one of the best cartoons of the past ten years, Adventure Time finally gets the respect it deserves from Cartoon Network and gets a full season 1 release on DVD (though not on Blu-Ray, oddly) instead of the weird collections of random episodes that they'd been putting out until now. If you're not a fan of the show, well, you should be. It is funny and weird and childish and absurd and subversive. I love it to death. So can you!
July 2012:
Link of the Month:

Retronaut
You may know that I have a fascination with retro futurism, or paleofuturism as it is sometimes called. But I also love context for paleofuturism, and how contemporary popular culture shapes our worldviews. Retronaut is rapidly becoming my new favorite website with its archive of photos, advertisements, catalogs, and what-nots of the whole span of the 20th century (and a little bit on both ends of it). It is handily divided by decade, and offers some great insight into the mindsets of bygone eras. Retronaut's slogan speaks volumes: "The Past is a foreign country. This is your passport."
Album of the Month:

4NML HSPTL by Open Mike Eagle
Another smashing album by hip-hop stalwart Open Mike Eagle. How can you not love an album that references a couple They Might Be Giants songs and a Ben Folds song? The music was all produced by one producer, Awkward, and has an incredibly well-done spacey/electro/psychadelic fringe. This gives the album a very unified feel but at the cost of the wild, freewheeling diversity that marked Mike's first two albums. My personal favorite is "4NML" (which references TMBG's "Don't Let's Start"), a wonderfully literate and biting lament at the inadequacy of language to be able to accurately convey an artist's message, which is a bold statement from someone who plies his trade with lyrics. In fact, the subtitle of "4NML" is "Korzybski's Lament," a reference to Alfred Korzybski, who basically invented the modern science of semantics back in the early 1930s. Other standouts are "Universe Man" (which references TMBG's "Particle Man"), "Your Back Pack Past" (which reference's Ben Folds's "Your Redneck Past"), and the very funny "DanceBill," which cautions against shaking your moneymaker because "that shit costs money, too."
Game of the Month:

Tiny Tower
Sometimes I am a sucker for economic simulators. Tiny Tower is an adorable skyscraper simulator that in absolutely no way resembles what it would actually be like to build & run a skyscraper. You build floors, assign them residential or business purposes (like retail, recreation, food, service, and creative), give jobs to the people who live on the residential floors, stock shelves with products, and build more floors. I like it because you can either intently play it or play it as a poke-and-forget game that you only check for a few seconds every few hours. There are fun extras like missions, costumes, and dream jobs. You can see the progress of my Tiny Tower at any time here: http://towers.nimblebit.com/android/45565065. Available for iOS and Android.
June 2012:
Link of the Month:

Dinosaur Dracula
Back around the turn of the century, before feed readers were much of anything, in those heady, first-ten-years-of-the-world-wide-web drunkenness, one of my all-time favorite websites was X-Entertainment, by Matt. In fact, it was X-E that inspired me to start thisischris.com. Well, after more than 12 years Matt has decided to call it quits on X-E… and start a new website called Dinosaur Dracula. It launched late last night! It promises to be a leaner, more agile sequel of sorts to X-E, full of hilarious pop culture articles. I am very excited.
Album of the Month:

Marian Call: Something Fierce
Marian Call is my favorite geeky & jazzy vocalist. This is a major release, a two-disc, 19-song album that explores an enjoyably large scope of music. Her songs range from fun and slightly silly ("The Avocado Song") to beautifully wistful (the epic "Anchorage"). Her performance is bright and lively, really capturing the spirit of her live performances, and her voice as always has a lovely burr to it that I just find absolutely charming. Her lyrics are smart and self-aware, and the production is polished and professional. Just listen to "Good Morning Moon" and try not to get it stuck in your head. This is an irresistible album.
Movie of the Month:

Mission: Impossible – Ghost Protocol

This is my second-favorite M:I movie (after DePalma's brilliantly stylish original), directed by heretofore animation director Brad Bird. Coming from animation gives Bird's action sequences a wonderful sense of space; you always know where everything is in relation to everything else (unless it's important that you don't), and action through-lines are clear and exciting. Each action sequence tells a story; it's not just a bunch of quick cuts and crazy camera moves to generate artificial excitement. M:I-GP was my very first Vidreoview! You can go read it now.
May 2012:
Link of the Month: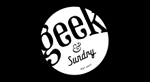 Geek and Sundry
From the mind of Felicia Day and her geeky friends is a new YouTube channel that produces hilarious and fun original content on a regular basis. My favorites are Felicia's "Flog" (short for Felicia's "Vlog," which is short for Video "Blog," which is short for "Web Log"), in which the adorable hostess goes out of her comfort zone and tries out some RL skills like blacksmithing and chainsaw ice carving; and Wil Wheaton's "Tabletop," which is a half-hour show that is like celebrity poker if the celebrities were all geek icons and the poker were a different type of board/card game every episode. Geek & Sundry is also now the online home of Felicia's incredibly popular "The Guild." It's fun stuff.
Album of the Month: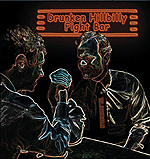 The Jesus Rehab: Drunken Hillbilly Fight Bar
The first release from The Jesus Rehab's new, focused, stripped-down (just guitar & drums) configuration, this EP is a rockin', stompin' good time. "Carry You" and "Holiday" are my favorites, full of damnably catchy hooks and fist-pumping energy. It's amazing just how much sound Jared Cortese can get out of his guitar, and Dom Cortese (also of Julia Massey & the Five Finger Discount) is a virtuoso drummer. Be sure to also snag the "No More Tears For Me" single!
Movie of the Month:

The Muppets

My favorite movie of 2011 (though to be fair I still have not seen Hugo or M.I.:Ghost Protocol). You can read my full review here.
April 2012:
In Memory

March 2012:
Link of the Month:

TNG Season 8
My link of the month is a Twitter account? You best believe! TNG Season 8 posts hypothetical plot synopses from a never-produced season 8 of Star Trek: The Next Generation in 144 characters or less. And they're absolutely hilarious. They make me bust a danged gut! The formula is (almost) always the same: a first sentence describes the "A" plot, and a second sentence describes the "B" plot of the episode.
Here are a couple of my favorite examples:
Dr Pulaski is back to evaluate Dr Crusher's fitness to practice medicine. Meanwhile, Beverly swoons for a ghost trapped in a loaf of bread.

— TNG Season 8 (@TNG_S8) November 27, 2011
Picard finds Jane Austen in a victorian cryo-pod, doubts her identity but still dates her. Beverly spies on them from behind a plant.

— TNG Season 8 (@TNG_S8) February 7, 2012
But there are more than 90 more where that came from! And best of all you don't have to have a Twitter account to read them!
Album of the Month: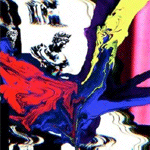 Busdriver: Beaus$Eros

Pronounced "Bows and Arrows," west-coast meistro Busdriver's latest album is all over the place, pulling in insanely varied influences from a huge cross-section of music, yet somehow maintains a cohesive, haunting overall feel. Truly genre defying, Beaus$Eros is not easily classified as a "hip-hop" album. Known for his intense, rapid-fire delivery, Busdriver's approach here is, well, I don't wanna say "more relaxed" because the intensity is still there, but there is an ease and comfortability in his cartoon-villain voice, and a lot of straight-up singing. Beaus$Eros has some experimental stuff going on, but it is also highly polished and each song seems planned with utmost care and the voice and the music (brilliantly produced by Loden) meld like they were written for each other, which is often a problem with other experimental hip-hop. Busdriver is part of the same group that also produced Nocando, Open Mike Eagle, and Dumbfoundead. I don't know what's in the water down there, but I hope they all keep drinking. This is easily one of the best albums of the last five years.
TV Show of the Month: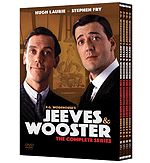 Jeeves & Wooster: The Complete Series

If you've ever been not quite sure what someone means by a "Comedy of Manners," you need to watch this series. Starring Stephen Fry & Hugh Laurie as the titular characters, this is a series about a proper (and brilliant) English valet who quietly and subtly uses his manners and influence to protect his wealthy (and dimwitted) employer. It may sound dry, but the episodes tend to spin quickly into wacky, but straight-played farce and ridiculousness. A rich and light and fun series all the way through. I've heard bad things about the video transfer, though (I haven't watched this particular collection myself).
February 2012:
Link of the Month:

Don Hertzfeldt's BitterFilms.com
Does the name Don Hertzfeldt sound familiar to you? It probably should. By the time he was 23 he'd already been nominated for an Academy Award and been included in the top 100 most influential animators of all time, and at 33 (just a couple of years ago) he'd won a lifetime achievement award. His deceptively simple stick-figure-animation films are shockingly funny and disturbing and profound. And they're only available through him personally. I urge you to watch as many of them as you can (or can stomach).
Game of the Month:

Super Mario 3D Land

This 3D Mario game eschews the more open-world, mission-based gameplay of previous 3D Mario games like Super Mario 64 and Super Mario Galaxy. Instead, it takes a simple pose: what if you took the straight-ahead, level-based gameplay of New Super Mario Bros., but made it 3D? The result is a fascinating and very fun.
TV Show of the Month:

Stephen Fry in America

In 2008 Stephen Fry took a tiny, black, British taxi and drove it through all 48 lower states (then flew to Alaska and Hawaii). It is a very charming, witty, dry, and lovely travelogue in six hour-long episodes from the perspective of a very charming, witty, dry, and lovely British gentleman. True, some states get a bit of a short shrift (Ohio and Idaho come instantly to mind), and Florida doesn't come out so well. But Mr. Fry stops in some delightfully unexpected places as well. In the end it seems a delightful but somehow all too brief visit from our darling neighbor from across the pond.
January 2012:
Link of the Month:

SomaFM
My favorite internet radio website, I'm particularly fond of the "Lush" and "Indie Pop Rocks!" stations. SomaFM is different in that each station actually has a programming director-slash-DJ who personally picks all the songs and when they play; it isn't just some database of songs put on shuffle. And because the focus is on the indie and the unusual, you're not going to hear very many of the songs that you'll hear on real FM radio. I started listening to them because of their excellent Christmas station, and I've stayed on for the long haul now. Since it's user-supported there are no commercial breaks (other than the occasional station ID break). It's a great way to discover new and exciting musics.
Game of the Month:

The Legend of Zelda: Skyward Sword

Nintendo has their Zelda formula down. Do you like the other Zelda games? Then you will probably like this one. The addition of the Wii Motion Plus makes it so that the fights require more skill than just button mashing; Link's sword now mimics the Wiimote in your hand. It has a different feel than many of the other games, with a different set of friendly races you encounter and an overworld that consists of (sadly under-utilized) flying mechanics. Several standard Zelda tropes are given interesting spins. Listen, it's a Zelda game, okay? Play it; you'll like it.
TV Show of the Month:

Krazy Times With a "K" — The Complete Series

Okay, so the show is actually called NewsRadio, not Krazy Times With a "K" — but one time (back when the show was on the air) Dave Foley was interviewed by Conan O'Brien and they refused to call it anything but Krazy Times With a "K." Anyhoo, NewsRadio is one of my very favorite 90s sitcoms, with characters who just get legitimately crazier and crazier as the seasons go on until by the end it's more like a sneak peek inside an hilarious insane asylum than it is a traditional sitcom. I laugh a lot, at Bill's increasingly nightmarish childhood ("Good times… good times…") and Dave's ever-increasing number of bizarre and unpopular skills he used to practice (like tap dancing, knife throwing, and playing Stargate: Defender), and of course Matthew's masterful physical comedy. Good times… good times…
---