Friday, 2 July 2010
Here are some interesting things I've found around teh intarwebs in the past few weeks that never made it into my blog here… until now (I'm pretty sure most of 'em made it onto Facebook or Twitter, though).
If you ever, ever want to know what an octopus is doing right this very second, Oregon State University's Hatfield Marine Science Center has installed a camera in the tank of their resident 40-pound Pacific octopus, Deriq.
It is for some reason very enjoyable and relaxing to watch Deriq meander around in his tank.
Artist Alex Varanese has imagined what it would look like if someone from today went back in time and re-created today's modern electronics—cell phone, laptop, hand-held video game system, mp3 player—using the design aesthetics of 1977.
The results are absolutely fan-frikkin'-tastic.
I was born in 1977, so I completely remember this style of design. Y'all have no idea how much I miss high technology that had a faux-woodgrain finish. Glorious.
Etsy crafter and all-around awexome human being Taisha McGee made the one piece of merchandise that no Twilight fan should be without.
The product description speaks for itself:
Bella's most useful accessory. Case is 5.5″ by 2″ and holds two average sized tampons. Edward's face is sparkly. Tampons not included.
Holy eff but that is so freakin' adorable. This is an actual album sleeve that artist Joebot made for a gallery show (happens on July 9th).
But the really cool thing is that you can purchase a print of this picture at his Etsy shop as a gift to send to me! Joebot has some other really cool prints as well, like ones of the Nintendo princesses (and Samus).
An absolutely adorable short film with seamless special effects animation. Very well done.
This is a fascinating collection of still frames and clips of people reading newspapers in dozens of films and television shows. The exact same newspaper each time. Going back decades. It looks like this:
It's actually kind of astonishing how wide-spread this newspaper really is.
AQUATIC VIDEOS
Here are a couple of videos of aquatic awesomeness:
This extravagantly cute melon bowl is from my link-of-the month, Host-It Notes.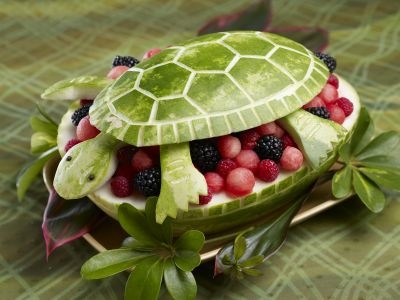 There are all sorts of other darling little foodstuffs at Host-It Notes, like sheep cupcakes, mushroom radishes, and frosting bees!
*-*-*-*-*
That's about it for now.
Categories: Art & Artists, Arts & Crafts, Computers, Cooking, Links, Movies, Pictures, Round-up, TV, Videos.
Tags: 1977, ALT/1977, Crabs, Firefly, octopus, Serenity, Squid, Star Wars, Taisha, Turtles, Twilight.