Friday, 2 June 2017
Album of the Month:


Great and Powerful by The Gentlemen of Leisure.
A wonderfully eclectic EP, featuring influences from soul, smooth R&B, hip-hop, and even surf rock, Great and Powerful is the debut release of a group that just so happens to include some very close, personal friends of mine. I've posted about them a few times before; now get off yer duff and get this album. My two favorite songs are the lovely "Please Know" and the frikkin' hilarous "Don't," the latter of which includes one of my favorite lyrics in recent memory:
Y'all gonna make me go off and smack somebody
These hands right here are rated "E" for "Everybody"
Take a listen:

Show of the Month: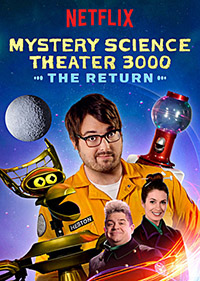 Mystery Science Theater 3000: The Return
It's back! One in a long, seemingly endless line of shows and movies from the past that are being revived in some form or another, MST3K is back with a whole new cast (though some of the same characters) but the exact same format, one that worked so well for the original series. So why change it? Did you like the original MST3K? Then you'll like this new version. Jonah is an engaging host, Felicia Day and Patton Oswalt are inspired choices to play the mads. Sometimes during the screenings the bots' and Jonah's voices are just a bit too similar and it's difficult to tell which of them is saying what, but it's all really funny stuffs.
Tabletop Game of the Month:


5-Minute Dungeon
A harrowing and hilarious cooperative card game in which your team has to play cards from your hands to match symbols on the dungeon cards in order to defeat them. If you defeat all the dungeon cards, you then have to defeat the boss of the dungeon in order to emerge victorious. The cats (as the name of game spoils) is that you only have 5 minutes to defeat the whole dungeon and the boss. And there are a LOT of dungeon cards to get through. The result is some of the most hectic and frenetic card-playing I've ever seen. It's a lot of fun, but it can get harrowing as you watch just how slowly the dungeon deck seems to deplete while the timer (a phone app you can download that includes dramatic music and a narrator marking your progress) counts ever further downwards. It's not unusual to win with only a couple of seconds on the time… or not to win at all. But since each game is only 5 minutes long, you can just play again!
Categories: Of the Month.
Tags: 5-Minute Dungeon, Gentlemen of Leisure, MST3K, Mystery Science Theater 3000.