Thursday, 6 November 2014
Album of the Month:

Julia Massey and the Five Finger Discount: A.L.I.T.E.
IT HASN'T EVEN COME OUT YET!!! I'll update this more when the album is released, but I've heard about 90% of it and UPDATE! The Album Has Been Released! You can git it here:
http://juliamassey.bandcamp.com/album/a-l-i-t-e
It is awexome and there is a song for my daughter in it! Here is the video!
The album is being released on Saturday. JOIN ME THERE!
Video Game(s) of the Month: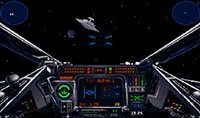 X-Wing & Tie Fighter
I very fondly remember back in the early/mid 1990s playing a tonne of these video games in Ryan Roullard's mom's basement on the MS-DOS computer down there. And now, finally, you can play them again (PC only). These two games are the best flight simulators I have ever played, and probably my favorite-ever games that take place in the Star Wars universe. There's something weirdly fun about adjusting shields, shifting where you put your ship's power (divert all shields to blasters now! and the like), and blasting the hell out of your enemies' ships. The controls are natural and the 3-D radar is extremely intuitive. It feels like you're dogfighting in the Star Wars movies.
Tabletop Game of the Month:

Bravest Warriors Co-Operative Dice Game
A very funny game in which your team must defeat various obstacles by rolling the right combination of die. Yes, team. This is a co-operative game: either you all win (by scoring enough victory points or by using up all the event cards), or you all lose! It keeps with the spirit of the Bravest Warriors webseries by being delightfully nonsensical yet still very easy to follow. Let's play (once I get my own set for Christmas).
Categories: Of the Month.
Tags: Bravest Warriors, Julia Massey, Star Wars.