Thursday, 1 February 2018
Show of the Month:


Jean-Claude Van Johnson
Good lord, I was unprepared for how frikkin' hilarious this show would be. The general premise is that Jean-Claude Van Damme is not only an actor, but is also a secret agent codenamed "Johnson" (hence the series' name). The fact that the show frequently flies off the rails into surrealism and supernatural absurdity while still maintaining its veneer of "realistic and gritty" just adds to the hilarity. JCVD has comedic timing that is absolutely flawless. Who knew? Case in point: in the first episode he plays a secondary role as a minor, bumbling henchman (Filip) who resembles JCVD. Later in the series Filip returns, and is conscripted by the villains to impersonate JCVD. JCVD captures Filip and impersonates him in order to infiltrate the villain lair. So to watch JCVD act as "Johnson" doing an impression of a character that he plays is just an absolute delight. The frequent and blatant shout-outs to various JCVD movies are wonderful and bizarre. And then the climax of the final episode hinges on something from the first episode that I assumed was an hilarious throw-away joke. The whole series is brilliant. Part of me wishes it went on forever, and part of me is glad that there won't be another season, because these six episodes form a wonderful whole that doesn't overstay its welcome.
Video Game of the Month:


Celeste
On the surface Celeste is one of those twitchy platformers in the vein of Super Meat Boy, where you die over and over again until you're able to utilize the physics of the game to make just the exact right moves at the exact right timing to clear a room and progress. But in its heart Celeste is a very different beast. Rather than reveling in its cruelty and delighting in how frenetic and difficult its levels are, this game does two very important things. For one, it is very encouraging. On-screen messages when you startup praise you for dying so many times, because failure is the best way to learn. Also, its music is (usually) gentle and melodic, almost like music out of Breath of the Wild instead of screeching, heart-pounding music meant to drive up the tension. And two, Celeste slowly builds a wonderful story with compelling and funny characters. This results in an experience that seems more contemplative, almost meditative at times. While you die a couple dozen times in the span of a minute. I am encouraged to continue not only for the satisfaction of solving a physical puzzle, but also so that I am rewarded by getting to experience more of the gorgeous graphics and music and learn more of the story of Madeleine and her journey up a mountain and into her own psyche. This game is getting rave reviews, and I agree.
Album of the Month: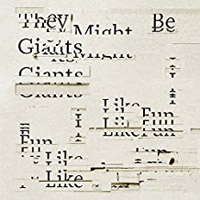 They Might Be Giants: I Like Fun
The 20th Studio album from TMBG! The first half of the album plays it kinda safe, with songs that are mostly in the TMBG-style of power-pop goodness. This is fine, because even at their worst, TMBG songs are better than about 90% of music out there. And these are far from TMBG's worst songs. But once the 7th track hits (the title track, "I Like Fun"), TMBG busts out of their own weird comfort zone and back into their bizarre, experimental, and out-there offerings that are, again, better than about 90% of music out there. Here's their latest video, for "The Greatest," a minimalist almost-dirge sung in Flansburgh's almost-falsetto. Also, it stars Nick Offerman!!!!
The album ends on a song ("Last Wave") that has horrifying, depressing lyrics:
We die alone
We die afraid
We live in terror
We're naked and alone
And the grave is the loneliest place

We die alone
We die afraid
We live in terror
We're naked and alone
And the grave is the loneliest place

We die alone
We die afraid
Afraid to die
We're naked and alone
Naked and alone

We die alone
We die afraid
We live in terror
We're naked and alone
Naked and alone
…until you learn more about it and realize that it started as a bad lip-sync reading of Aerosmyth/Run DMC's "Walk this Way" music video:
Now it seems more hilarious than ever, a massive in-joke for TMBG's fans. I Like Fun isn't their best album, but it is still great to have.
Categories: Of the Month.
Tags: Celeste, Jean-Claude Van Damme, Jean-Claude Van Johnson, Nintendo, They Might Be Giants.