Thursday, 18 October 2012
On Monday Google did one of my favorite of recent Google Doodles, this one based on Little Nemo, the old-timey comic strip created by Windsor McCay. You should click this image and enjoy, then come back here for more info:
If you don't know about Little Nemo, you really should take it upon yourself to get some educamation about him. Here's some primers:
The Comic Strip:
Little Nemo began as a comic strip at the turn of the 20th century, in which Nemo has a series of short adventures in Slumberland that always end with him waking up in his bed. You can read a whole bunch of these amazingly-drawn strips at the Comic Strip Library here. Here's an example of one, the famous "Walking Bed" sequence:
The Animé:
In 1989 there was an animé version of the charachter, Little Nemo Adventures in Slumberland. It unfortunately is not exactly stellar entertainment. There's some excellent animation, but the screenplay went through too many hands. Eventually the screenplay was co-credited to Chris Columbus, of The Goonies, Home Alone, and Harry Potter fame. The whole movie is actually on YouTube right now, but due to the dubious legality of it, you might not be able to watch it for long:
The Video Game
There was also an excellent and quite difficult NES video game that was released around the time of the movie, called "Little Nemo: The Dream Master." In it you throw candy into various animals and then climb into them and wear them like pajamas, each one giving you a different ability (frog lets you jump high, mole lets you dig, bee lets you fly, etc.). It's really a classic of the NES, and you can play it online at NESCafe (again, of dubious legality) right here.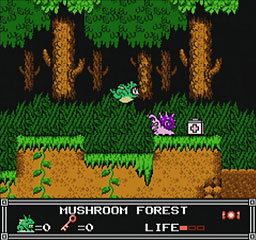 The Songs:
The "Little Nemo: The Dream Master" video game, of course, inspired the opening line of The Crazy Boy Floyds song "Scrambled TV Super." Wot's that? You ain't never heard that song? Well, take a listen:
Yes, that's right: "Sometimes you crawl into a frog, and wear it like pajamas as you hop along your log." Pretty sweet, I know.*
And then, of course, rapper Mega Ran wrote a song about the video game that samples the 8-bit music from the game! Take a listen:
It all just keeps going! Little Nemo forevah!
*Full disclosure: I wrote the music for the "Scrambled TV Super" song, so I might be a bit biased.
Categories: Comics, Links, Movies, Music, Video Games, Videos.
Tags: Google, Little Nemo, Mega Ran, Nintendo, The Crazy Boy Floyds.