Thursday, 3 August 2017
Video Game of the Month: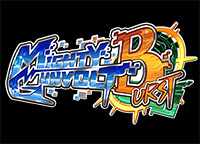 Mighty Gunvolt Burst
A while back, two of the people who were the driving forces behind the Mega Man and Mega Man X franchises created their own video games: Mighty No. 9 and Azure Striker Gunvolt respectively. The first one had… problems. The second one was pretty good. Well, now they've been combined in an 8/16-bit game that truly does feel like you're playing a brand new Mega Man game. The main difference is that you don't gain specific weapons by defeating bosses; instead you gain weapon configuration options by finding hidden modules throughout the stages. These let you craft your own weapons: trajectory, speed, # of on-screen bullets, etc., etc., etc. ad infinitum. Seriously, the sheer number of configurations you can do is insane. The only problem is that the menu system UI is not user-friendly, and since there is no instruction manual it is pretty difficult to figure out how to navigate it. But the game itself is a lot of fun, especially to me since I do so heart the original Mega Man series of games.
Show of the Month:


Castlevania
Lemme ask you a quesion: Do you like the writing of Warren Ellis? If you do, then this show is for you, because it was written by him and is full of the kinds of touches that he loves to include in his works. This "series" is really just a feature-length pilot episode inexplicably broken up into four parts. I don't know why they bothered to do that. It serves to introduce us to (most of) the main characters based on the video game Castlevania III: Dracula's Curse (my favorite of all the Castlevania games). It is surprisingly well-done for a video game adaptation, and the inclusion of a corrupted church as the real villain of the piece is an inspired (and very Ellis) choice. The characterization of Trevor Belmont as a disgruntled former hero who is now basically an alcoholic is great. There are a couple of great, well-choreographed action scenes that let you see just how much of a badass Trevor actually is, and towards the end of the series when he rallies townfolks and shows them just how you defeat demons is a great moment where you really see, holy shit, this guy is something. I do wish the show took place in more than one location; the Castlevania III game has sprawling, varied settings, from swamps to forests to caverns and clock towers. You get some hints of that in this pilot, but I do hope the actual series coming later expands the setting to include all of the crazy, wacky things that you can find in a Castlevania game.
Comic Book of the Month:


Moon Girl and Devil Dinosaur
A comic book about an absurdly intelligent little girl, Lunella Lafayette (in recent issues it was discovered that she is actually the single smartest human being currently in existence), who gets bonded to an enormous, pea-brained dinosaur. Most of the fun of the book comes from playing off Lunella's immense frustrations with the fact that because she's just a kid she doesn't have any of the resources or freedoms to take advantage of her huge intellect. She's often railing at the sheer stupidity and lack of understanding that surrounds her, from her well-meaning-but-clueless parents to the idiocy of the superhero community that she gradually becomes a part of (she develops crime-fighting gadgets and eventually the superpower of being able to swap minds with Devil Dinosaur). It's a great read, Lunella is a fascinating character, and the art does a great job of expressing the emotions going on in this preternaturally gifted girl.
Categories: Of the Month.
Tags: Castlevania, Marvel, Mighty Gunvolt Burst, Moon Girl and Devil Dinosaur, Nintendo.