My One-Year DVD Anniversary Quiz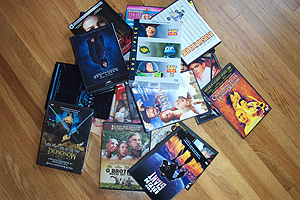 Well, it was my birthday yesterday, and since I got my DVD player for my birthday last year, I decided to take stock of all the DVDs Carrie and I have gotten since then. Turns out that together we got 24 DVDs in the span of one year (five of them just yesterday).
In order to celebrate this DVD anniversary, I've decided to make a DVD quiz. All you have to do is guess whether a given DVD in our collection belongs to either me (Chris) or Carrie.
The DVDs are arranged in alphabetical order. Enjoy!
---
---
ANSWER KEY
| | |
| --- | --- |
| 0-9 | What the f@#k is wrong with you!? Are you that bad a judge of character? I bet you'd let a murderer babysit your children! For shame. |
| 10-16 | Oh, Lord God to whom vengeance belongeth, smite this moron before his idiocy dost infect us all! |
| 17-23 | You've met Chris or Carrie before. Who are you? What do you want!? Leave us alone! Quit calling in the middle of the night asking about Larb flavoured Pretz! The cat ate them! We don't have any more! |
| 24 | Your name is either Chris or Carrie, and you already knew the correct answers. |
It's acutally pretty simple. If a movie takes place during high school or college, or stars Julia Stiles, it's a good bet that it belongs to Carrie. But not a sure bet.
This is fun. I think I'll do it again next year. Watch for that!
Jigglypuff says: